Last updated on September 11th, 2021 at 03:03 pm
Swarms of desert locusts that have been devouring crops and pasture in the East Africa region have spread to South Sudan, the UN food agency says.
Several million South Sudanese are already facing hunger as the country struggles to emerge from a civil war.
The UN has warned that a food crisis could be looming in East Africa if the outbreak is not brought under control.
The US Secretary of State Mike Pompeo has pledged $8m (£6m) to help fight the invasion on his visit to Africa.
Mr Pompeo was speaking after talks with Abiy Ahmed, the prime minister of Ethiopia, which along with Somalia, Kenya and Uganda, has been hit by the pests.
The invasion is the worst infestation in Kenya for 70 years and the worst in Somalia and Ethiopia for 25 years.
Efforts to control the locust infestation have so far not been effective. Aerial spraying of pesticides is the most effective way of fighting the swarms but countries in the region do not have the right resources.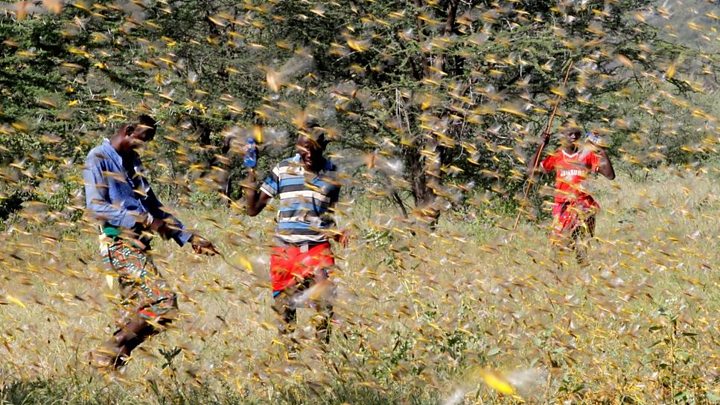 'Reconnaissance mission'
The Food and Agriculture Organization (FAO) said about 2,000 adult insects had entered South Sudan via Uganda into the southern county of Magwi.
"These are deep yellow, which means that they will be here mostly looking at areas in which they will lay eggs," the AFP news agency quotes FAO South Sudan representative Meshack Malo as saying.
Agriculture Minister Onyoti Adigo Nyikuac said the government was training people to spray.
"Also we need chemicals for spraying and also sprayers. You will also need cars to move while spraying and then later if it becomes worse, we will need aircraft," he said, AFP reports.
About 60% of South Sudan's population is facing food insecurity – and destruction of harvests by locusts could lead to a drop in nutrition levels in children, rights group Save the Children warns.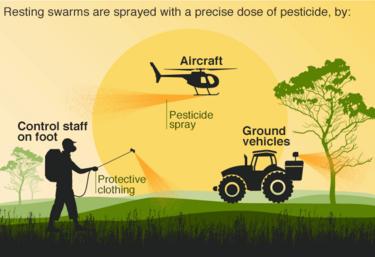 Even without the locusts, the charity expects that more than 1.3 million children aged under five will suffer from acute malnutrition this year.
The FAO says the insects, which eat their own body weight in food every day, are breeding so fast that numbers could grow 500 times by June.
The UN body last week called on the international community to provide nearly $76m (£58m) to fund the spraying of the affected areas with insecticide.
Somalia has declared a national emergency in response to the crisis.
The Ethiopian government has called for "immediate action" to deal with the problem affecting four of the country's nine states.
Kenya has deployed aircrafts to spray pesticides in several regions and its Agriculture Minister Peter Munya said on Monday that the invasion was "under control".
Meanwhile, Uganda has deployed soldiers to the northern regions to spray pesticides in the affected areas.
The locust swarms entered Africa from Yemen three months ago.